A great conference is coming up on December 4-6; it's the European Cloud Summit 2023 in Wiesbaden, Germany.
"The European Cloud Summit is a premier event in Europe for Microsoft Azure and Cloud Technologies. It gathers Microsoft Azure executives and engineers, top speakers, industry professionals, large clients, and thousands of attendees for networking. The summit provides cutting-edge content in both business and technology, offering a great learning and professional opportunity."
Thrilled to be a featured speaker alongside such a superb lineup of fellow speaker experts: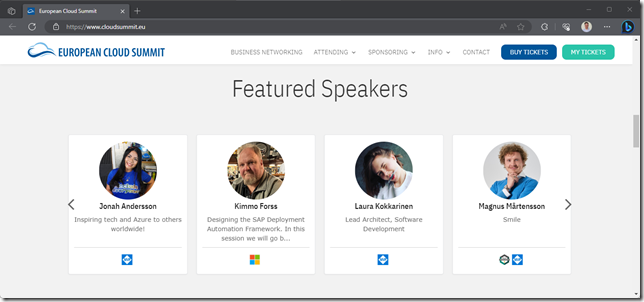 I will speak about my "Five best Azure Access Control practices" It is a serious challenge to master Access Control and Identity in the Cloud. With experience from over ten years as an Azure MVP, and in my role as CEO of Loftysoft, I know most companies fail this challenge completely. Focus on Zero-Trust with the quintessential principles of just-in-time access and least-privilege! My session will banish Azure ghost and zombies from Azure. We will obliterate connection strings forever. We will see magical secrets that will never expire. That and more in this fast paced, demo heavy Azure enablement session which will make you a great Azure access hero.
---
Comment Section