This week on The Cloud Show #theCloudShow I interview a very good friend and Azure Architect extraordinaire Rik Hepworth @rikhepworth of Blackmarble. See him turn the table around on me to begin to ask ME questions! ;)
We spent the episode partially reminiscing about how the cloud started and grew, but more importantly we talk about how organizations should think when strategically deliberating how to approach the cloud. That and more on The Cloud Show!
Reach out to me if YOU want to be a guest on the Cloud Show, or if you know someone who would make a great guest star! Hope you enjoy the show!
By the way, I particularly like this frame from the show: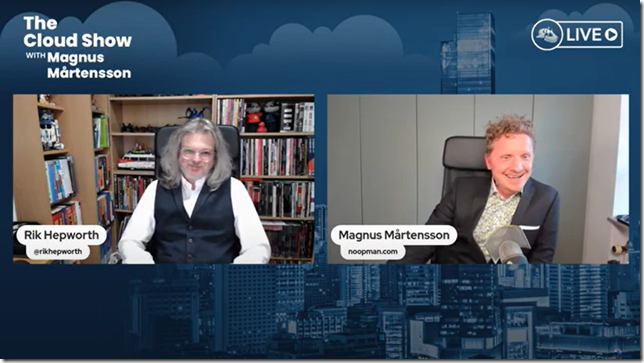 About the Show Star Rik Hepworth: Rik is a Chief Consulting Officer at Black Marble, He helps organizations large and small use Cloud better. Whether that is a new adoption where governance and management are key or an application modernization project where technology choice and team knowledge are important factors in success. Through his public speaking and community involvement, He is a recipient of the Microsoft MVP Programme award for his work with Azure. He is also proud to be a member of the Microsoft Regional Director Programme. As an event organiser, speaker, and lapsed blogger, he is keen to share his knowledge with the community and encourage & support others as they do the same. His grey hair is an indication of how long he has worked in IT, and in that time he's done most things you'd expect of an IT Pro: From crawling under floors pulling cables, to managing large-scale automated OS rollouts, to architecting solutions for on-premises and cloud. Now he spends more time working with his customers' management, sharing that breadth of experience and learning.
---
Comment Section