This week on The Cloud Show our guest star Alex Mang and I discuss Cloud Native Development (taa-daa). What is that, and how is that any different from that we have been doing in development before we started using a cloud platform?
Alex Mang is exceptionally experienced with leading teams that develop applicaions, outside and for the cloud. I can think of few others that could shed a more precice spotlight onthis topic than him.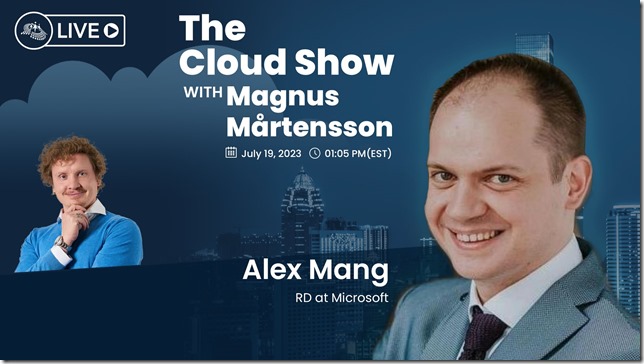 VIEW THE EPISODE here below and follow the show for more!
ABOUT THE SHOW
The Cloud Show is the weekly show for leaders are impacted by cloud projects. Through short interviews with insightful guest Stars we penetrate important topics about cloud and leadership in cloud contexts. We know this show will help listeners potentially avoid some of the challenges that we have faced, or at least be better equipped to face the ardious journey that is the path to a successful cloud for your business!
Reach out to me if YOU want to be a gues on the Cloud Show, or if you know someone who would make a great guest star!
About the Show Star
Alex Mang is a Microsoft Regional Director, Azure Most Valuable Professional, working as a cloud architect, consultant, trainer, software developer but also regularly seen at conferences and user groups speaking mostly on cloud-computing topics. His main goal is to help developers better understand the implications of cloud-computing as a whole, from as many perspectives as possible. Alex was invited three times in a row as a featured speaker at Microsoft Ignite, the company's largest and most important technical conference gathering nearly 35,000 attendees.
Since 2011, Alex runs KeyTicket Solutions, a company focused on democratizing access control, ticketing and management solutions for every single vertical in the world.
For his experience on cloud-driven solutions, his Microsoft Certified Trainer, Microsoft Certified Solution Developer (MCSD), Microsoft Certified Solution Associate (MCSA) and Microsoft Certified Solutions Expert (MCSE) stand as proof and so do the many happy customers he had the pleasure to work with for the past many years.
---
Comment Section