This week on The Cloud Show I interview the incomparable Miri Rodriguez who has the deeply fascinating job of "storyteller" at Microsoft. A storyteller in the corporate world is a person who works with a brand to tell the right stories about the brand. A storyteller needs to understand enough about technology to know they are saying the technical right things, and their true skill is to tell a captivating tale about whatever it is that goes on inside company.
On this episode we talk about how cloud leaders can make sense of the company strategy by telling the right stories both externally, but perhaps even more importantly, internally in the company! Storytelling is THE ONLY WAY to make sure all your employees know to pull together in the same direction. The power of uniform motion created by storytelling inside your business cannot be overstated! Miri knows all about this and is here to talk to us today on The Cloud Show!
Reach out to me if YOU want to be a gues on the Cloud Show, or if you know someone who would make a great guest star! Hope you enjoy the show!
By the way, I particularly like this frame from the show: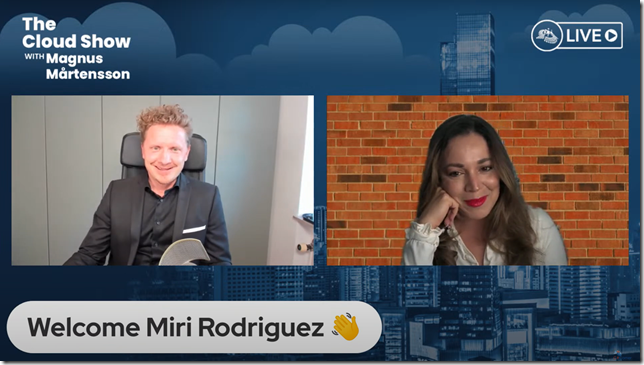 About the Show Star Miri Rodriguez: A Latina Immigrant Living in The U.S. A Storyteller, Mindfulness Advocate, Brand Consultant, And International Keynote Speaker. Also, the owner & CEO of Be Mindful Be Happy and the best-selling author of the award-winning book Brand Storytelling. She helps brands big and small design their brand identity and stories for influence and impact. Combining over 15 years of personal branding, design thinking, and storytelling practice, she's mastered the best ways to design brands and stories that matter: authentic, deeply personal, emotionally connected, and driven by inclusion and empathy. She holds a master's degree in integrated communications and marketing from Georgetown University and various certifications including Copyrighting, Technical Writing, Design Thinking, Six Sigma, and Prosci Change Management. Miri has published the book Brand Storytelling: Put Customers at the Heart of Your Brand Story.
---
Comment Section