This week on The Cloud Show the guest star is Mustafa Toroman.
Few Cloud experts I know are as knowledgeable and profound as my friend Mustafa. A Cloud veteran, and with multiple books published on cloud topics. Mustafa is an expert in a great many cloud areas, and today we cover one of his favorite topics security in the cloud!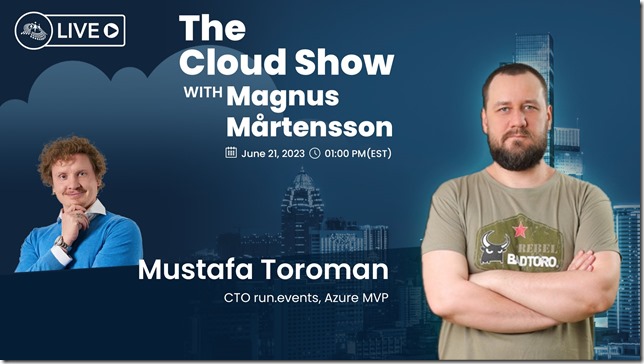 VIEW THE EPISODE here below and follow the show for more!
ABOUT THE SHOW
The Cloud Show is the weekly show for leaders are impacted by cloud projects. Through short interviews with insightful guest Stars we penetrate important topics about cloud and leadership in cloud contexts. We know this show will help listeners potentially avoid some of the challenges that we have faced, or at least be better equipped to face the ardious journey that is the path to a successful cloud for your business!
Reach out to me if YOU want to be a gues on the Cloud Show, or if you know someone who would make a great guest star!
About the Show Star
Mustafa Toroman is a technology professional and the Chief Technology Officer (CTO) at run.events, a company that provides a platform for organizing and managing events. He has over 20 years of experience in the IT industry and has held various technical and leadership positions in companies around the world.
Toroman has a deep understanding of software development, cloud computing, and IT infrastructure management. He has expertise in building scalable and resilient systems that can handle large amounts of data and traffic. He is also a strong advocate for DevOps and believes in continuous improvement and learning.
Toroman is a Microsoft Azure MVP (Most Valuable Professional), a frequent speaker at technology conferences and events, and also and a community leader organizing meetups and events. He is also a published author and has written several books on Microsoft technologies and cloud computing.
---
Comment Section